Tallinn is a compact city. It does not matter if you are arriving by ferry, plane or bus – you will find yourself in the city centre. But how to get to where you want to go?
Take public transport from the airport or bus station, walk to town from the harbour
Biogas-powered buses stop right next to or in front of the airport building, and in about 15 minutes you will be in the heart of Tallinn. You can also take a bus from the bus station in the city center to the border of the heart of the city and the old town. When you buy a Tallinn Card, public transport is free for you!
If you arrived in Tallinn by ferry, you can walk to the Old Town from the port in about 15 minutes. Getting from one end of the Old Town to the other also takes about 10-15 minutes.
Exploring Tallinn on foot
Tallinn is small enough for everything to be within walking distance but also big enough to always offer something new to discover. The popular sights, hotels and restaurants of the city centre and the Old Town are just a short walk away. The city is also built on a relatively flat area, making walking even more easy. Tallinn is also perfect for going on longer walks, as there is a lot to discover and pleasant places to stop and rest. There is also a lot to discover outside the city centre:
Rocca Al Mare
,
Nõmme
,
Pirita
,
Kadriorg
and
Kalamaja
. You could visit the exciting former industrial area of
Kopli
or explore the many
urban nature
areas of Tallinn.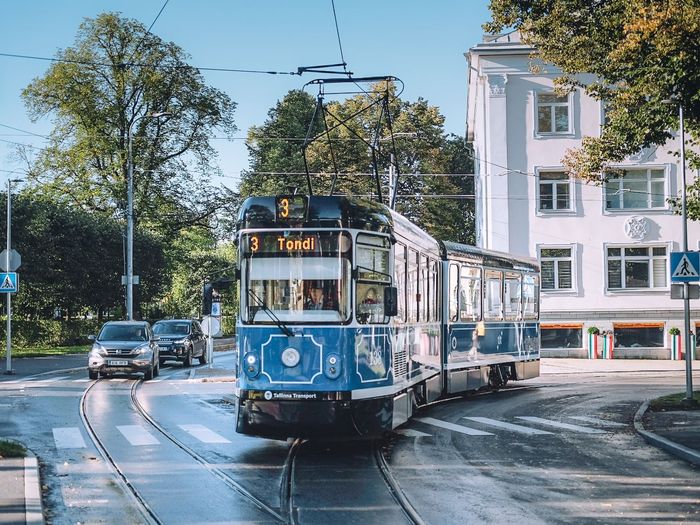 Tallinn's transport is green
Although it is convenient to walk around the city centre and Kalamaja, hopping on a vehicle may be required in order to reach more remote areas. Most of Tallinn's public transport vehicles run on electricity or gas. By 2025 we plan on eliminating buses running on diesel fuel completely. Therefore, using public transport for longer routes is a more sustainable option. If you wish to use a ridesharing service, but still want to be responsible about it, order an electric car from the Bolt application.
Sustainable electric scooters in Tallinn
In the warmer months, you can also rent an electric scooter powered by
100% renewable energy
using the Bolt app. The local service provider
Tuul
also offers electric scooter rental. Gas-powered vans are used to collect the scooters from the streets to further reduce their footprint.