As you explore the cobblestone streets of medieval Tallinn, there's no better place to start than Town Hall Square, the historic heart of the city. Here you can visit the imposing, gothic Town Hall, climb its 64m tower for spectacular views of the city, then duck into the 15th-century Town Prison, now home to Museum of Photography.
Tallinn's beloved medieval churches are nearby, including the 14th-century Holy Spirit Church with its intricate, carved wood interior, Niguliste Museum (St. Nicholas' Church), now a museum of church art, and the gigantic, 13th-century St. Olav's Church and Tower, once the tallest building in the world. It has its own tower to climb, for those who dare. The Cathedral of Saint Mary the Virgin (Dome Church`s), not far away on Toompea hill, completes the list. It's filled with spectacular artwork and the elaborate coats of arms of Estonia's nobility.
A good way to get an overview of Old Town's development is to visit the Tallinn City Museum, situated in a medieval dwelling that dates from the 14th century. The exhibits outline the history of the town from its very beginning to the present day.
The Estonian History Museum covers Estonia's history from prehistoric times' right up to the end of the 20th century. It makes its home in the 15th century Great Guild Hall, itself a spectacular relic of Tallinn's past. It is no surprise that this hulking, gabled hall with its gigantic porch and lion's head door knockers belonged to the Great Guild. Members of the guild, who had to be married German merchants, controlled the Town Council. In the cellar rooms, an exhibit called 'Power of the Elite' showcases the history of the building.
A nearly 2km stretch of medieval Tallinn Town Wall surrounds and protects Old Town. A close-up look at this amazing structure, and a chance to walk along its top, can be found at the Town Wall museum offering charming views of the area's rooftops.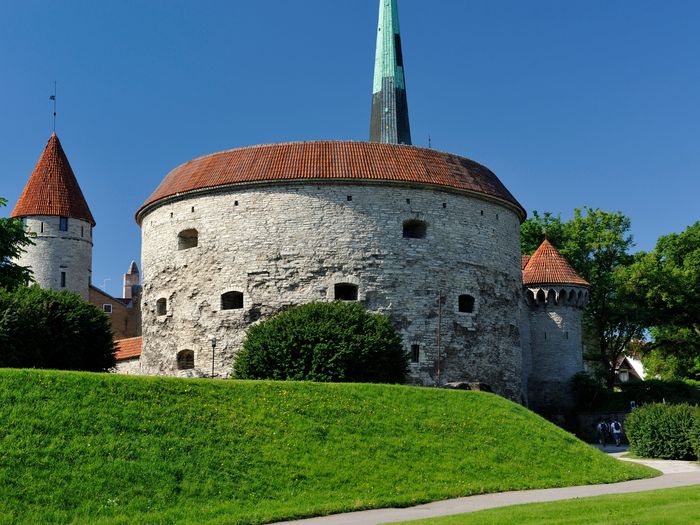 Also guarding Old Town are two massive cannon towers: Kiek in de Kök houses a museum on Tallinn's defences and serves as the gateway to the fascinating Bastion Passages hidden under Toompea hill, while Fat Margaret's Tower is home to the Estonian Maritime Museum. Several smaller towers are also open to the public. The Maiden Tower, for instance, offers a museum and café, while in the Epping Tower, visitors can get a hands-on introduction to medieval weaponry.
To hear historic and architectural details as you make your way around these sights, be sure to rent Audioguide Tallinn Old Town Walking Tour or Tallinn Audioguide Tour on the iPod, both available from the Tallinn Tourist Information Centre.