While Tallinn is known throughout Europe for its exceptionally beautiful Old Town and rich culture, more and more golfers visiting the capital of Estonia are also discovering quality golf opportunities just half an hour away from the city centre.
In recent years, the interest in golf has risen – particularly for long weekends, where three to four rounds can be played at different courses around Tallinn over a 2-3-night stay. Tallinn has everything to satisfy even the most demanding golfer from great hotels, very good restaurants with different price levels, short travelling times between golf courses and accommodation, and, most importantly, challenging and enjoyable courses. Below, we look at three different golf courses near to Tallinn.
Niitvälja Golf
The Baltic region's first golf course, Niitvälja, was opened in 1992 and is just 30km from Tallinn. New holes were created about 10 years ago, making the 18-hole course one of the most interesting courses around. There is also an additional five-hole course, the oldest remaining part of the original design, and this is used mainly by beginners and improving golfers, of whom there are about 3,000 in Estonia.
The Niitvälja 18-hole park course is very enjoyable for both low handicap and regular club players alike. There is plenty of water, which often attracts balls like a magnet. A favourite hole for many players is the par-five 15th. After two strokes, your ball should be waiting to be pitched onto the island green. My own record there is 16 strokes - I was getting used to my new wedge, and repeatedly came up short of the island. Looking at the recent competition history of the 15th, it would appear that I'm not the only one who sometimes gets into trouble on the hole. That aside, there are several other landmark challenges at Niitvälja. The par-threes are all different, which always makes the game interesting, and there is water on three out of four of the short holes.
Few years ago, Niitvälja invested in improvements to its clubhouse, and today, in addition to a modern steam room, sauna and dressing rooms, it is also possible to spend time in the jacuzzi. The clubhouse also has more than one meeting room, so why not use the opportunity and bring clients, combining a round of golf with some more formal business before your game? The catering is simple and fast, and for many club members who are used to playing weekly, the restaurant offers value which is much appreciated.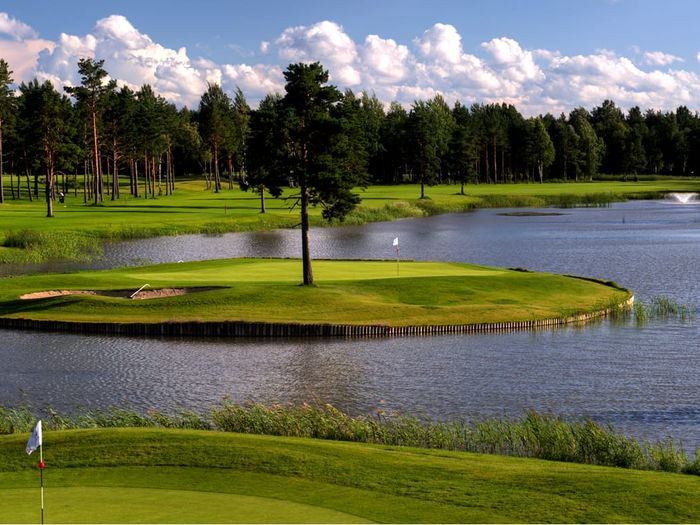 Rae X Golf
The closest golf course to the centre of Tallinn is Rae X Golf, formerly known as Suuresta Golf, which, after ownership change, has gained a new lease of life. Rae Golf Course, which is 18km from Tallinn on the road to Tartu, was opened in 2004 with nine holes, followed by an additional nine in 2008. Players thought the first nine were less interesting than the others, and as a result, the numbering of holes was changed this year, which ultimately gives players a much more interesting and balanced golfing experience today.
Rae X Golf Course is certainly the most straightforward to play of the three golf courses around the city, the rough is beautifully mown, and a particularly great advantage can be gained by players who can generate more distance. A beautiful clubhouse was completed a few years ago, where a new restaurant operator has added customer convenience. All in all, Rae Golf offers the average club player a pleasant golf experience, on a course that may seem easy to more advanced golfers.
Rae Golf Course played an important role in developing Estonian golf, as it is easier and more enjoyable to start golfing here than on the courses that like to make balls vanish in the water, the thick stuff and the forest. Rae Golf course can now offer world-class teaching quality with technology to match, at affordable prices. In addition to golf, Rae Golf also offers seminars and client days, and the chance to use their famous smoke sauna close to the clubhouse. If you've never been, then I recommend trying Rae Golf - the course is now more interesting, and golfing services have made a significant leap forward in recent years.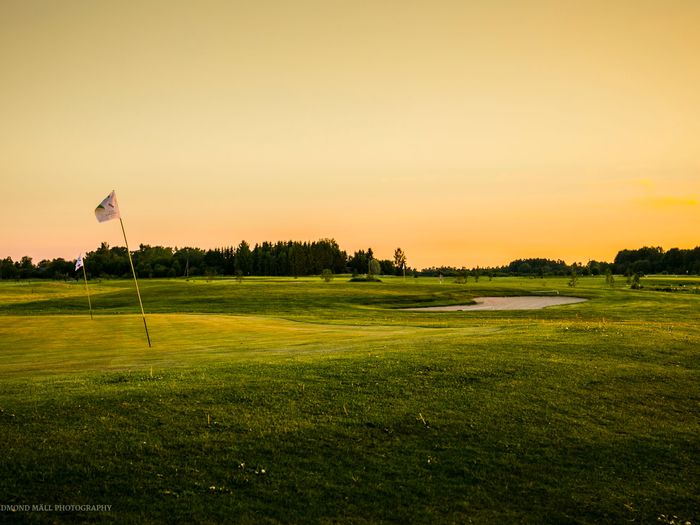 Estonian Golf & Country Club (EGCC)
The Estonian Golf & Country Club (EGCC), located in Jõelähtme, is the most internationally recognised golf course in Tallinn, having been selected four times in a row as a Top-100 Golf Course in Europe by Golf World magazine.
The EGCC has two courses - the 9-hole Stone Course and the 18-hole Sea Course, which has hosted both the World Cup European Qualifier and individual European Championships several times. In 2016, the men's individual European Amateur Championships was at EGCC, where the winner, Italian Luca Chiancetti, won with a total of -16. Chiancetti also earned a place in the Open Championship at Royal Birkdale this year. The World Cup qualifying competitions have featured names such as Joost Luiten, Jamie Donaldson, Graham DeLaet, and many other first-class players.
The Sea Course was designed and opened in 2006 by Lassi Pekka Tilandra, and has firmly established its place on the European golf scene. It has become a favourite spot for many international players who come back year after year. The course starts at an elevation of 30m, the holes themselves are mostly in the woods, and there are also fairways on the fourth and 15th holes which are next to the Gulf of Finland and are exposed to its winds. The most beautiful view on the Sea Course can be had from the third tee down to the sea, but great views can be found on many other holes too.
The nine-course Stone Course is also used by the guests, who want a completely different challenge and is located on a limestone plateau that does not have water or large trees but rather resembles a links-type course. For those who really love golf, it is possible to play 27 holes in a day, by warming up on the Stone Course, and then playing the main Sea Course.
EGCC is also known for its very good restaurant, where players have the opportunity to enjoy high-quality fare after a game. A new addition to the course is the Halfway House, which is between the fifth green & 13th tee, at which there is never a shortage of traditional EGCC spicy fish sandwiches.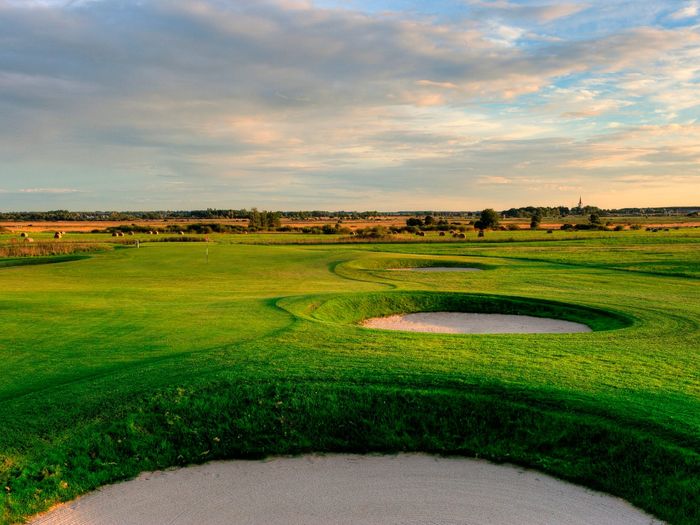 The best way to enjoy the golf courses in Estonia is to stay in the centre of Tallinn or in the Old Town, both of which are 20-35-minute journeys from all three clubs. Your rounds, transport and hotels are often most conveniently organised by a tour operator who can put the perfect package together for you to enjoy three very different golf courses in three days. You can also add Old Town restaurants, or eat and drink in the fast-paced Telliskivi district in Kalamaja with its street food and hipster vibe. You may even find the problem is that there isn't enough time to sample all the good restaurants and entertainment. A simple solution is to come to Tallinn more than once a year!
Hopefully, Tallinn will soon be known not only for its Old Town, rich culture and history but also some great golf courses as well. Visitors will vote with their feet, and it seems sure that all three golf courses will see annual international visitor numbers rise and rise. This will be a great boost to the developing Estonian golf culture.