There is no reason to worry if you are not previously familiar with saunas – Tallinn is the right place to learn! In Estonia, there are over 100,000 saunas in total, meaning that there is one sauna per 13 people. 27% of all private houses and 11% of all apartments (in apartment houses with at least three floors) have saunas. A lot of people also have a sauna in their summerhouse. In addition, there are numerous public saunas and many sports clubs, swimming complexes and other public spaces also have their own sauna rooms.
It is therefore safe to say that Estonians are experienced at bathing in saunas and if you just follow their actions you will be fine. Another possibility is to ask for advice from locals, as every Estonian would love to introduce their sauna culture to foreigners.
It is advised that you do not eat a large meal before going into a sauna. It is better to have a few snacks and enjoy larger meals after visiting the sauna.
Leave your belongings in the changing room and then take a shower before you enter the sauna. When entering a sauna, you will need something to sit on and, if you believe you need one, a refreshing drink (in a plastic bottle for the sake of safety). Some prefer to cover their head and hair with a sauna cap or towel.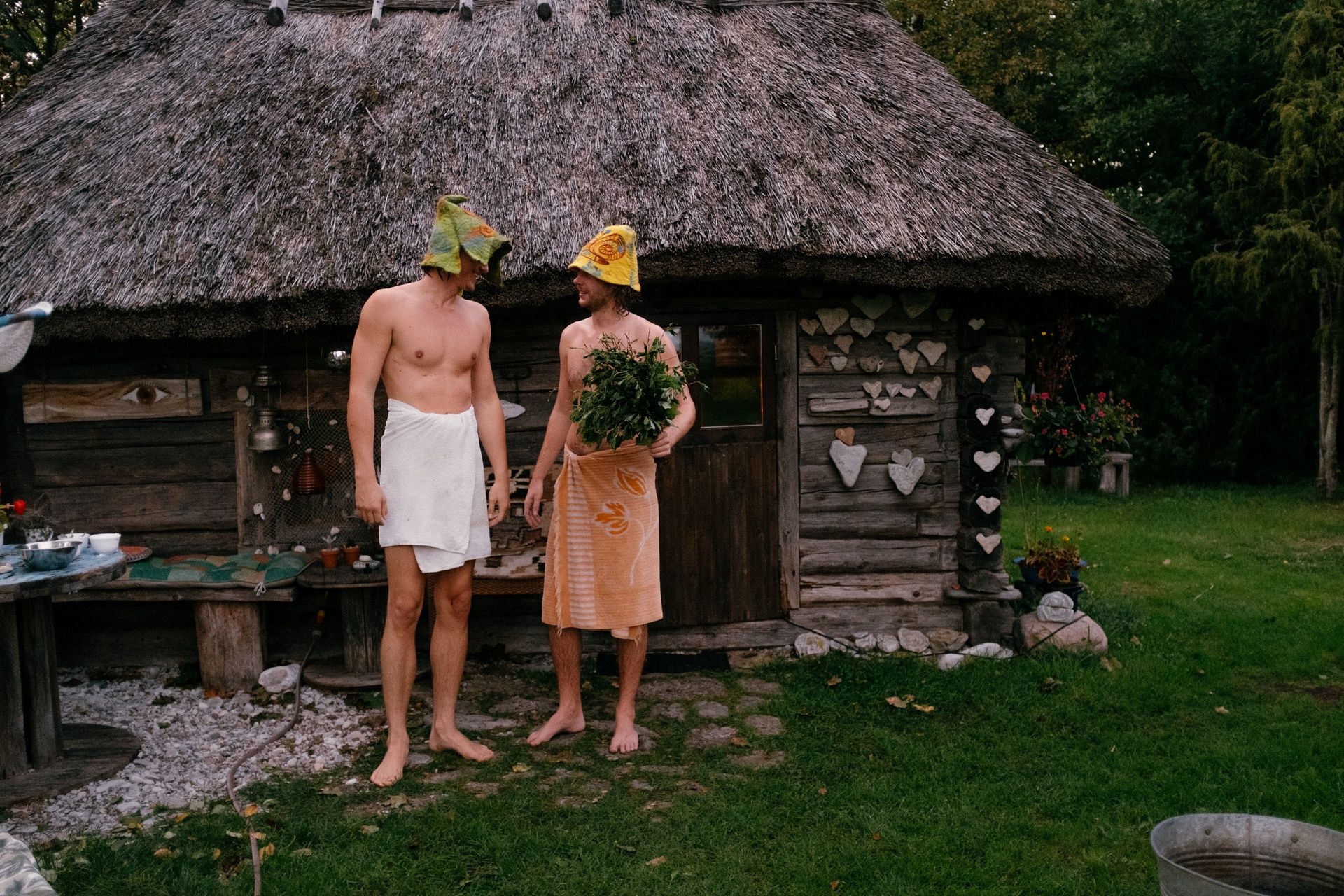 It is customary to be naked while in a sauna, especially among family and people who are of the same sex. In mixed saunas, follow instructions and the way other people in the sauna are dressed. Swimwear or a towel wrapped around your body are an acceptable way of covering yourself in a sauna. However, some swimming complexes forbid swimwear in saunas to prevent chlorine from vaporising, so make sure to read the signs.
All people are equal in a sauna and even if everyone is naked, it has nothing to do with sexuality. Looking at other people's bodies, commenting on them or touching them is therefore considered extremely inappropriate.
A sauna is a place where both the soul and the body are cleansed. Traditionally, saunas are a holy place where people used to go to give birth or die. Therefore, everyone stays calm and peaceful while in a sauna. You can sit or lie down on the sauna's resting area. Some prefer to enjoy their sauna in silence, while some prefer to make relaxed conversation. Both methods are fine, but loud shouting is definitely not permitted in a sauna.
There are no rules when it comes to heating the sauna by splashing water on the heated rocks, you can do it whenever you feel like it (or not at all). If there are other people in the sauna, it is polite to ask them whether they are fine with it before you heat the sauna. The answer will probably be yes.
If you are able to whisk yourself with a sauna whisk, then you should definitely try that. Whisking yourself with a sauna whisk made of birch leaves improves your skin's blood circulation, accelerates your body's metabolism and removes dirt from your skin. It may look extreme, but in reality it is like a pleasant and relaxing massage. Birch leaves also smell amazing in a sauna.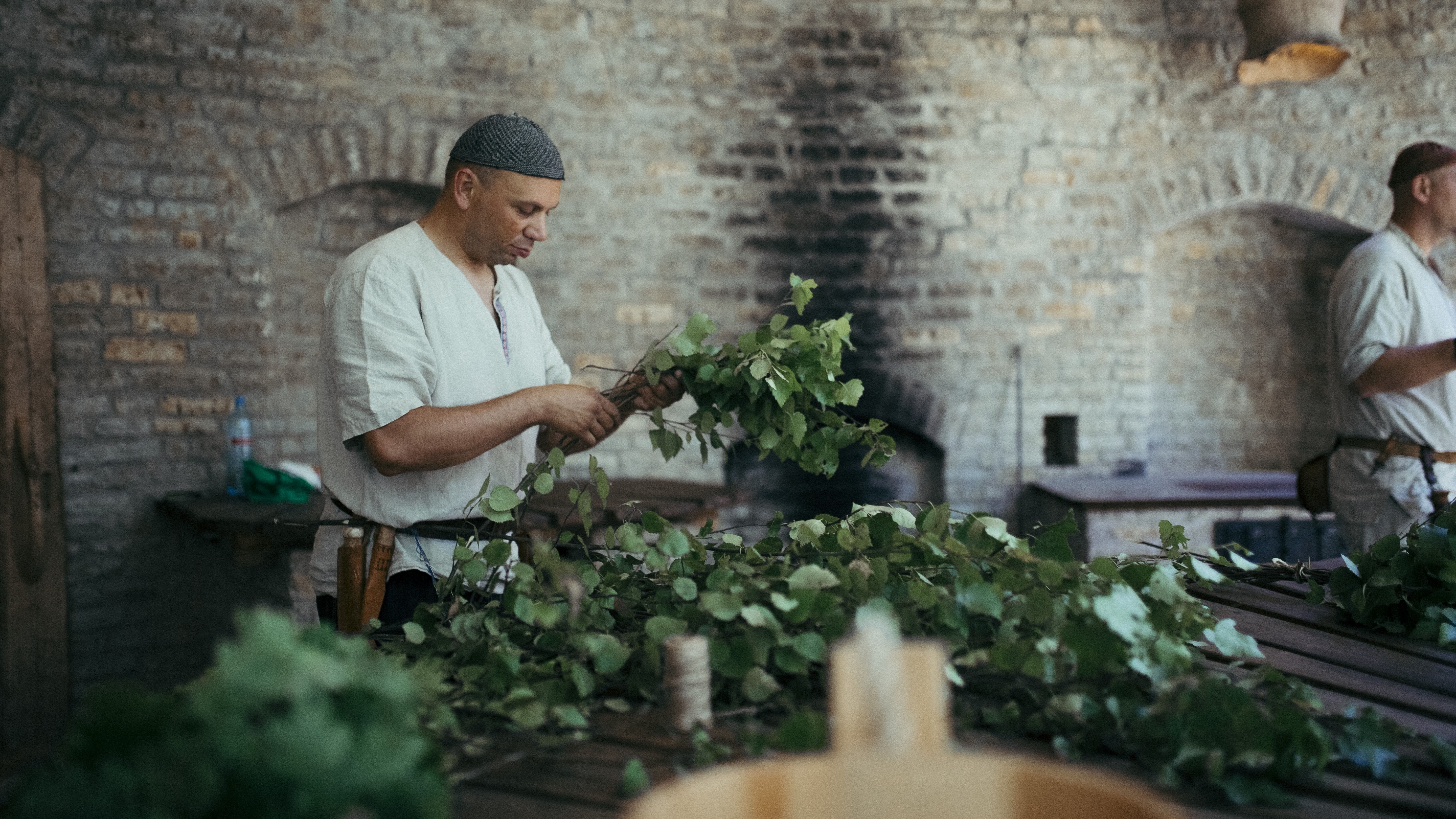 You can spend as much time as you like in a sauna. You will feel it when you need to go out to cool yourself. Make sure to drink enough water. Soft drinks or beer are also appropriate. Many public saunas sell drinks suitable to be consumed on-site.
You can go back into the sauna once you have cooled off in the resting room, changing room, in the yard, under the shower or with a swim. There are no rules for going back and forth, you can do it however and whenever you please. It is, however, considered polite not to open the sauna door right after heating the sauna, or the freshly heated steam will go out.
If you wish to use body oils, honey or other cosmetic products while in a sauna, make sure to first enquire whether it is allowed. If it is allowed, make sure your products will not stain the sauna's resting area or floor.
After enjoying the sauna for a sufficient amount of time, wash yourself and then cool yourself in the changing room or in the yard. Make sure to have enough clothes with you so as not to get cold on your way back. After bathing in a sauna, enjoy your relaxed feeling and find some calm activities to do. Also make sure to eat and drink sufficiently.